Summary: If you are looking for a reliable solution to migrate email to Shared mailbox Office 365, then you will get the productive solution by the end of this article. You will get the step by step automated approach discussed here.  Just go through this article, and you will also get the manual solution as well.
Users may choose to migrate emails from either their individual accounts or shared mailboxes to the other Office 365 shared mailbox, based on their preferences.
Individual mailboxes are not the same as shared mailboxes.
Shared mailboxes are used when several persons require access to the same mailbox, such as for corporate information or support email addresses, a reception desk, or another function that may be shared by multiple people. Admins are the ones who often create and manage these shared email accounts.
Individual mailboxes, on the other hand, are regular mailboxes managed by individual users.
Users who have access to the group mailbox can send as or on behalf of the mailbox email address if the administrator has granted that user the necessary rights.
Why do users migrate their emails to a Shared Mailbox Office 365 account?
Some of the reasons which make users move their emails to a Shared Mailbox Office 365 account can be mergers, acquisitions, rebranding, or compliance.
If you are unaware of how to move your emails to a Shared Mailbox Office 365 account, then this is the article for you.
Here I will share a few of the manual approaches provided by Microsoft and an automated method using which you will easily be able to move your individual or shared mailboxes to the other Office 365 shared mailbox without any hassle or without losing a bit of data through out the whole process.
Methods to Migrate Email to Shared Mailbox Office 365
If you want to easily convert email to Office 365 shared mailbox, you may use a professional Office 365 to Office 365 Migration Tool is a multi-faceted software that allows you to move Office 365 shared mailbox to a different account. This application allows you to mass export Office 365 mailboxes to another account. There will be no data loss as a result of using this tool. To transfer freshly arriving data from the source account, utilize the Delta migration functionality.
Moreover, this software offers users a free demo version, that can be used to migrate two user accounts for free. Users can also check the working performance of this software by using the demo version before purchasing the full version.
Try These Steps to Convert Email to Shared Mailbox Office 365
Step 1. Start the program by selecting Office 365 as both a source and a destination.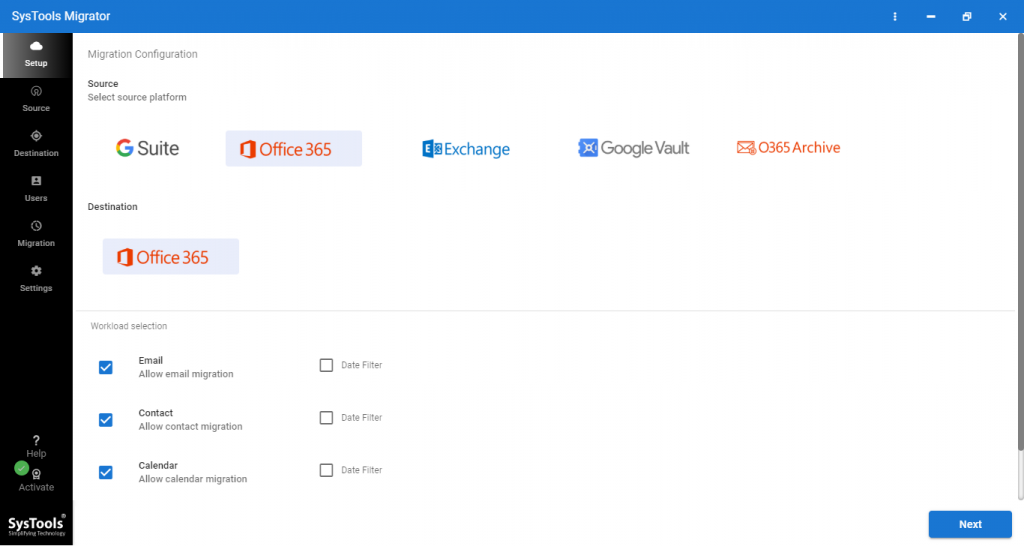 Step 2. Then, choose items from the Workload menu; the tool also offers a date-based filter option for transferring selected data.
Step 3. Now, use the Office 365 Admin ID and Application ID to connect to the source Office 365 tenancy. Then click on the Validate button.
Step 4. After you've verified the permissions, click Next.
Step 5. Enter the Admin ID and Application ID into the target Office 365 tenancy, then click the Validate button to migrate emails to shared mailbox Office 365.
Step 6. After validating the permissions, click the Next button.
Step 7. We must now create a mapping between shared mailboxes in Office 365 and individual user mailboxes. The program has three alternatives for completing this operation: retrieve users, import users, and download the template. Select one of the alternatives and go to the next.
Step 8. To ensure that the mapping is correct, click the Validate option to migrate emails to shared mailbox Office 365.
Step 9. The permissions have now been confirmed.
Step 10. Finally, click the Start option to initiate the migration of emails to the Office 365 Shared Mailbox.
Step 11. The program will transfer shared mailboxes in a few minutes depending upon the size of the mailbox. Once the migration gets completed. You can then log in to the destination user account in order to check the data.
Check Also to: Tips to Migrate Google Workspace Calendar to Office 365
Manual Method to Migrate Email to Shared Mailbox Office 365
Step 1. To begin, log in as an administrator to your Microsoft Office 365 account. Then, go to the Office 365 Admin Center and select Exchange.
Step 2. Navigate to Recipients, then Shared. Select the shared mailbox, then Convert and Convert to Regular Mailbox.
Step 3. A caution message will then display, asking for confirmation. You must hit the Yes button to proceed.
Step 4. It will just take a few minutes to migrate here. When the procedure is completed, a completion message appears. Simply click the Close button to quit.
Step 5. Finally, when you log back into Office 365. As a consequence, this shared mailbox was transformed into a user mailbox.
The data from the shared mailbox has been transferred to the migrated mailbox.
How Hard Is It to Migrate Email To A Shared Mailbox?
When users require a license to move shared mailbox data from one Office 365 account to another, the following conditions apply:
When the mailbox data exceeds 50 GB, the mailbox is placed on litigation hold or uses in-place archiving.
Mailbox is on litigation hold or utilizes in-place archiving.
Other Issues Can Be:
When managing permissions for shared mailboxes becomes challenging during the transfer.
Moreover, Delegating across businesses does not always work well, and the correct users must be relocated at the same time to ensure that rights are retained.
As a result, businesses are commonly puzzled about constructing mailboxes after relocating individuals or transferring the material.
Therefore, organizations must aware of the potential risks involved in the manual solution as it can create a temporary communication halt and also hamper the running businesses.
Wrapping Up
There could be several reasons why individuals might desire to migrate their emails to a Shared mailbox.
If the manual approach does not meet your demands and requirements, you may use the above mentioned automated tool, which is helpful for both your needs, whether it is migrating an individual email or emails from your shared mailbox, both of which can be simply transferred. Moreover, one can easily and safely perform this operation with 100% data security and integrity.