After the cold winter season, flowers start to bloom in spring, and the earth comes back to life as the climate starts to warm up. Spring then ends and ushers summer along with its kind of blooms. In this post, we continue to look at some of the exotic flowers that usually bloom in late springs or early summer. To transition your garden into the summer season, you need to plant early summer blooms to make it look alive even when early spring flowers stop blooming. Let's look at some of these flowers. 
Allium
Alliums are large flowering plants that usually bloom from May to June. Although they refer to the onion family, they are known for their beauty rather than being grown for flavor. They are typically planted in the fall in colder climates, while in warmer areas, one can get successfully planted in spring. One setback of these flowers is that occasionally, the foliage may start to turn yellow even before blooming. When planting these flowers, try mixing them with plants that will conceal the yellowing with their leaves. They don't need much care but will require regular watering when flowering. 
Geranium
These lovely exotic flowers are usually mistaken for the red plants used to decorate window boxes and normally bloom freely. These are also lovely plants that belong to the Pelargonium genus but are not geraniums. The early summer geraniums we are talking about here are the true hardy genus geraniums. Most of them will begin to bloom in late spring; however, 'Rozanne,' a new variety hybrid, will bloom until the first frost. These are low-growing plants that give the garden a sense of maturity by spreading and intermingling with neighboring foliage. They require low maintenance and will only need water during a dry period. A slow-release fertilizer will produce perennial geraniums.
Bleeding Heart 
Unlike other flowers that usually go in and out of style, the bleeding heart flowers have always remained consistent. They regularly grow to about 2 to 3 feet in height. The spread also measures the same. These plants have puffed-up, heart-shaped flowers that bloom from April to May. The exotic flowers usually dangle off the arching stems. In the heat of the summer, the plant often remains dormant. However, one variety known as the fringed leaf doesn't go dormant throughout summer; it can bloom severally. They are also gradually self-seed. They need to be well-watered the entire summer. However, they don't need to remain in soggy soil. These plants don't need deadheading or pruning. 
Brunnera
Even though some gardeners claim that there isn't enough sun in their garden, there are several benefits that shade gardens offer. One of them is that such gardens allow delicate exotic flowers to grow there. One of these flowers is the lovely Brunnera flower, which is also called heartleaf Brunnera, false forget-me-not, or Siberian bugloss. Brunner bloom brilliant blue flowers that look like forget-me-nots, but they are more vivid in color. When necessary, water the plant to ensure that the soil is moist, more so when it's a new plant. Unless you have poor soil, Brunneras don't need fertilizer. 
Lily of the Valley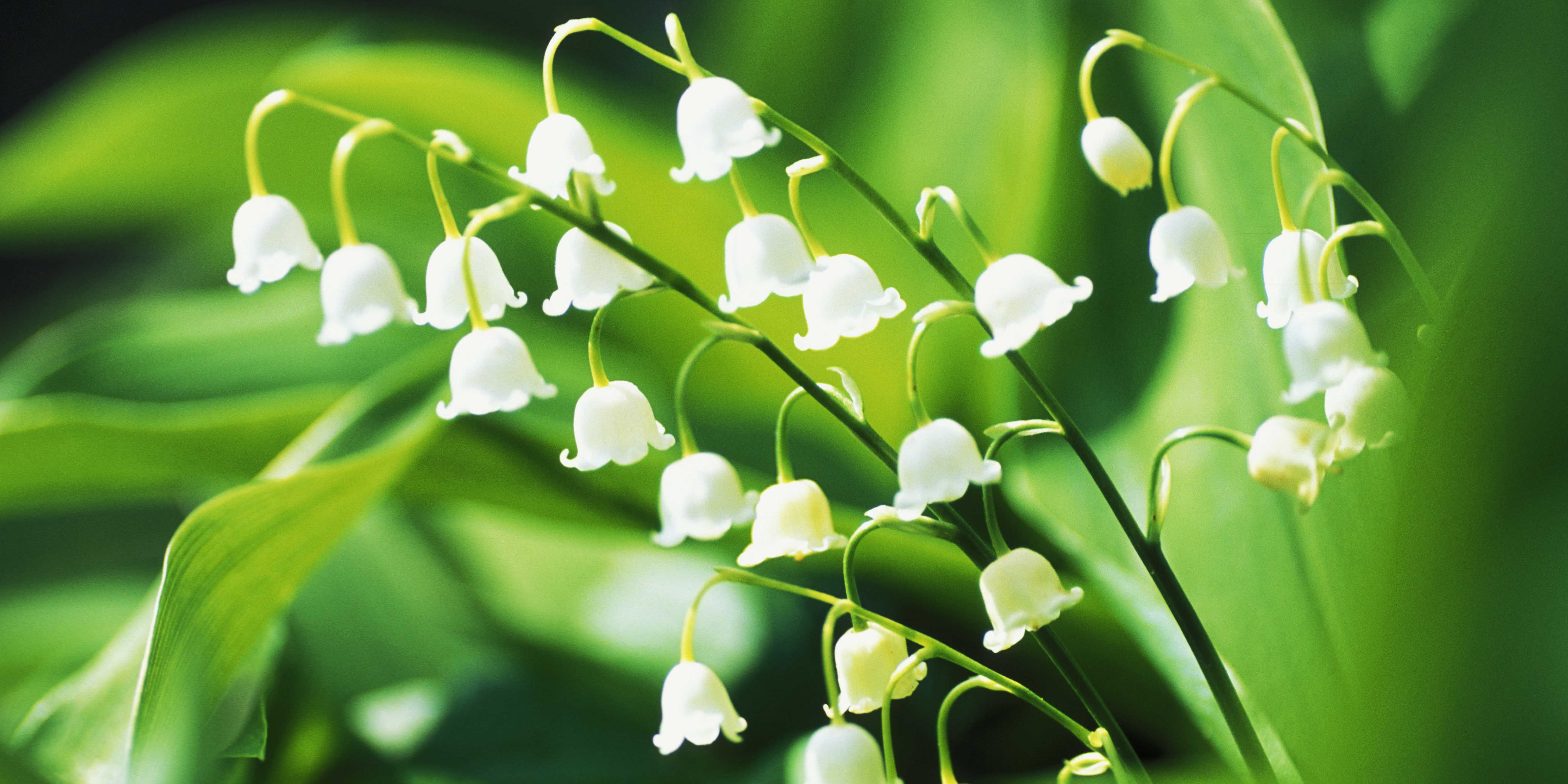 There is that hate-love relationship that gardeners have with the lily of the valley. In some parts of the United States, these plants are considered invasive because they form a dense mat of wandering roots. However, they are quite handy in places where the soil needs to be held tightly together with its roots. Although they are tiny low-growing flowers, they have this sweet scent that is nothing short of heavenly. It usually blooms in April, and its sweet scent permeates the air. When you find out that the top inch or inches of soil is dry, you need to water the plant. During the planting season, the gardener needs to use a balanced, slow-release fertilizer every three months. 
Lilac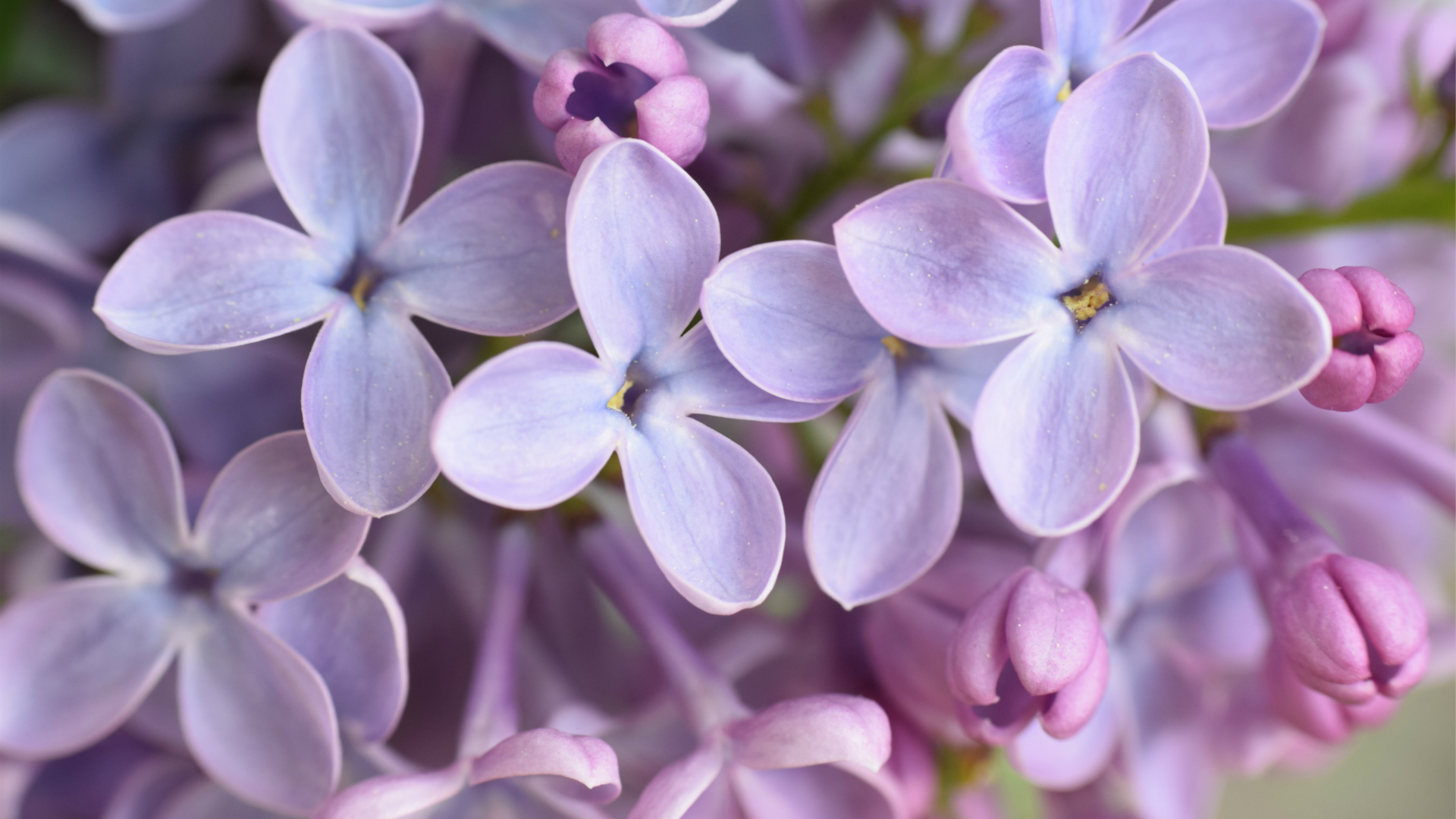 If there are lilac flowers close to you, you will smell their sweet fragrance. Lilacs have long leaves and require little maintenance once you have planted them in your garden. In April and May, they usually bloom for several weeks. Once these blooms are done flowering, remove the flowers. This is done by plucking out the floral area of the plant, allowing it to channel food to the roots to make it strong and healthy. Besides that, doing that will ensure that blooms increase the following year. Lilacs require constant watering; however, overwatering them may lead to low-quality flowers. In spring, fertilizer will be handy during spring, provided the soil doesn't have too much nitrogen. 
Pansies 
Due to their bright blooms that are quite cheerful, pansies are favorite flowers to many gardeners. Blooming in these exotic flowers occurs from April until June. At both ends of the growing season, pansies can withstand chilly winds and light frosts. Although older varieties may fade away due to the heat of the summer, they will rebloom again in fall. New varieties are in better shape to withstand heat. The blooming period can be extended by regular watering. Pansies may require fertilizer; however, it tends to make these flowers leggy when it's too much. 
Primrose
What makes these wonderful early summer flowers wonderful is that they are available in many vibrant colors. These colors include yellow, purple, pink, yellow, and many more. These flowers bloom in early to mid-spring. They will continue blooming for more than six weeks and will spread throughout the garden on their own. So if you've planted one or two primrose colors in your garden, cross-pollination will result in new and exciting colors the following year. 
Conclusion 
These early summer flowers will look beautiful in your garden if planted and taken care of properly. Plant them early enough so that when early spring flowers fade away, you will have early summer flowers blooming to make the garden vibrant and exploding with different colors once more. For these and more exotic flowers, order from CosmeaGardens.com.